The house was established in 1991, but the family have been in champagne growing business much longer than that. Today they own almost 17ha of vineyards in Chouilly Grand Cru and registered as NM (Négociant Manipulant), so that they can buy grapes to produce their own champagne and increase production volumes.


Intuition NV
We kicked off with Intuition NV (formerly names as Tradition Brut NV) which is an entry level cuvee of the house and is a blend of 3 grape varieties. Usually 50% Chardonnay and equal parts of Pinot Noir and Meunier. Interestingly, Meunier they buy from the same grower with whom they have been working for more than 27 years. Base vintage makes usually up to 75% and the remaining are reserve wines. 3 years spent on lees and dosed with 7 g/l.


Rose NV
Followed by the vertical of 3 Rosé with different base years. Blend is similar to Intuition. Younger ones NV16 & NV15 both have this amazing copper red color coming from full cluster maceration. The one with 2008 base had more orange hue. The colour of rose fades away with time as tannins structure is not sufficient to keep the color.

When young rose is full of red berries, cherries and has almost syrupy aftertaste.
NV08 had the acidity of this great vintage. More on a caramel fruit side with candied fruits, apricot jam. Actually I like this rose with gained complexity with some bottle aging!


Chouilly NV Brut
We then moved to Chouilly NV14 Brut which has 75% of the base year and the rest are reserve wines. Legras & Haas blend all 35 plots in Chouilly together, so that gives a pretty good representation of this village. Very Chouilly mid-palate and very Cote de Blancs which you can easily recognise if tasted blind. Chalky and refreshing. Made in reductive style it shows some weight on the the palate which is the signature of Chouilly. Some pastry, apple tart, pear.


Chouilly NV Extra Brut
Another cuvee which I actually a big fan of is Chouilly Extra Brut NV. Unfortunately, Jérôme decided to skip it in our tasting that day, but I think it definitely worth mentioning. Don't be mislead with the label, that is not just an extra brut version of previous cuvee. That is different concept. Fruit comes only from the top of the hills plots, rather than all of Chouilly. Soils there are more saline and mineral. So the blend is the key, which is very different. Aged on lees longer — 5 years. Also less reserve wines not to dilute with creaminess of the older wines. Very different in style. It is Chouilly of course but with extra nerve and freshness and more minerality. Great wine!
Than we tasted Millesimes which come from satellite plots of Montaigu considered to be the best part of the village.


2011 Millesime
2011 a year large in volumes seems to age much quicker, it lacks the character of other great vintages. Luckily the autumn was very warm and gave good opportunity for maneuver and Legras & Haas declared the vintage the last minute. Liked it's focus & precision though. Granny Smith apples.


2008 Millesime Magnum
Disgorged April 201616 Complete balanced wine with oyster juice on the palate. House keeps 1K btls & 400 Magnums to be released in late 2021 after spending 12 years on lees. That will be a hit!

2002 Millesime Collection Magnum
Original Disgorgement and higher dosage which is against the current trend of longer lees aging and low dosage. Kept in house cellars for that long the wine shows nice maturity. Powerful and generous. Reductive house style, and seductive coffee and toffee notes of mature Chouilly.


Winemaking
Winemaking is almost 100% steel. Always full malo and immediately racked once it's done.


Jérôme believes zero malo and poorly managed malo are 'terroir erasers'. The former has strong taste, the latter adds weird creamy milky notes.
Les Sillons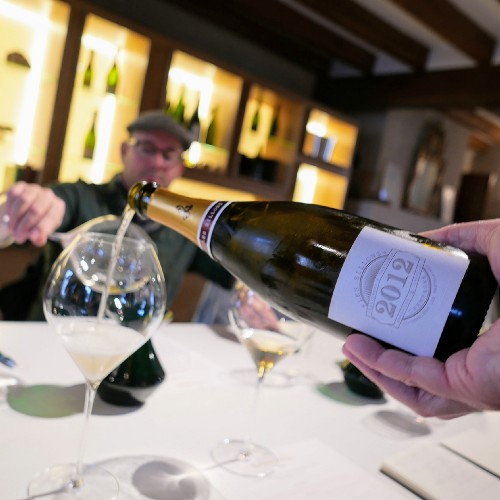 This is single vineyard cuvee. Each year family taste all the parcels in blind and Montaigu was always the favourite. But over the past years Les Partelaines (0.45 ha vineyard in the other part of Chouilly) was performing on par and recently started showing even better. So the decision to do a single vineyard bottling was now obvious. Produce about 3K bottles a year. Aged 3 years on lees and dosed with 6.5 g/l.

Les Sillons is 100% new medium roast oak. Both 2013 and 2012 have evident oak. Spices, expressive aromatics, tropical and exotic. Both vintages are great, but 2012 is bit ahead.
Preferred the latter and in Zalto glass which little bit calms down the oak.


Jérôme says this wine gains from oak in the first 5 years after release, but in 15 it will be very similar to Millesime.
Exigence

That's the perpetual reserve of the best vintages of Legras & Haas. Always a blend of equal parts of Chardonnay from Chouilly and Pinot Noir from Aÿ in Vallée de la Marne, which they get from another grower in exchange of own grapes.

Jérôme prefers Perpetual Reserve rather than Solera term. Not only because Solera is portuguese and we should respect that similar way we defend Champagne.


When you think of Solera it right away associates with oxidation and when you think of Perpetual Reserve — it is reduction.

Exigence №9 is perpetual reserve of 95, 96, 98, 99, 02, 04, 06, 08, 11–14. Dosed with 8g/l. Made in reductive style, but shows some oxidation that comes with the age of wines in perpetual reserve. Very good concentration.

It all started with 1996 vintage when Jérôme's mother asked to do something special for Millenium. So they released it in 1999 to rush on the market and obviously it was NV as not enough time for Millesime. So since than they decided to keep Exigence as NV and build perpetual reserve with the best vintages.

Jérôme was very generous to share Exigence №1 with us. It was so tertiary, coffee, mushrooms, saline.


Drinking family history
The very special bottle we had was 1959. It was made by Jérôme's grand father as his father skipped the year for military service. Only few bottles left in the family cellar and we were flattered with such a gift!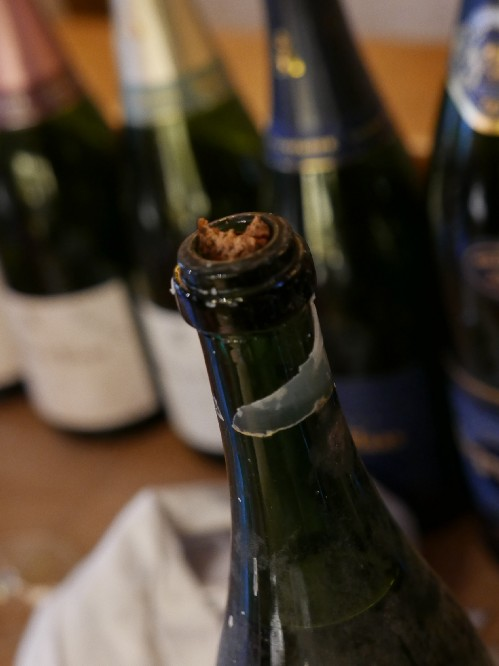 The bottle was sealed with wax and Jérôme had hard time opening it. Cork was very old and broke, so he had to use the corkscrew to take it out. We all felt a relief once we heard this psh-sh-sh sound which is a great sign of an old bottle still keeping the pressure. This wine showed lovely rum aromas on the nose and had this mellow creamy texture on the palate and beautiful orange peel flavours. Alc. 13.5%