On a gloomy day of November 5, 2020, when all of Europe rushed into the new lockdown, I uncorked 6 bottles of fine Volnays and found myself just off the Beaune-Chagny highway (D974 road) facing the vineyards of this famous village in Côte de Beaune.



These bottles tempted me for a few years lying in the cellar. I couldn't wait to learn the stories those wines would tell. Which story fascinates the most? The story of the man who made the wine or of the place the fruit comes from? Which vintage will have a stronger voice?

I looked around. A narrow pathway in front of me runs through the middle of the vineyards, right to the heart of the village. Volnay is quite compact and I could easily see its edges: the one bordering Pommard on my right and Meursault on my left. Less noble neighbor Monthelie lies to the West of the village.

There is one peculiar reason Volnay doesn't have any Grand Crus, but interestingly, over a half of its vineyard area are Premier Crus. It's not a hard task to spot the best sites. This is where the slope rises and vines enjoy the morning and the early afternoon sun. Most vine rows are neatly combed and run from the hill's top down.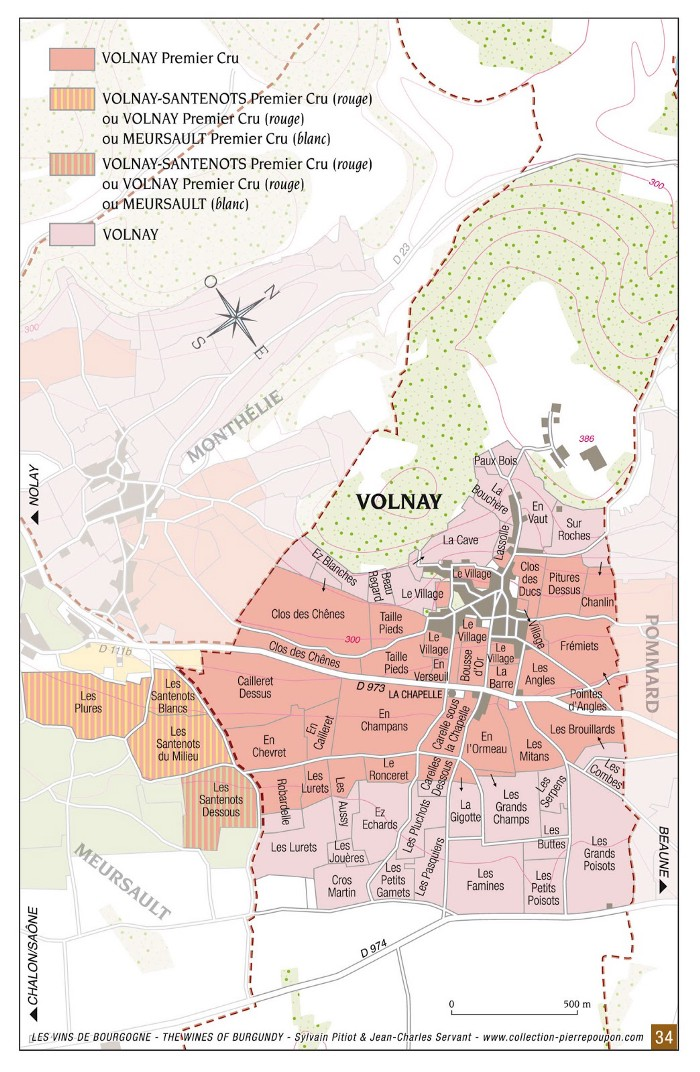 Soils are diverse, but lighter than in Pommard and rich in limestone. This explains the charming delicacy of Volnay over sturdy wines of the rich in clay neighbor. My first two wines were in full agreement with that.

Vincent Girardin Volnay 2015 comes from 2 plots with 65 years old vines in the bottom part:
Les Lurets and La Gigotte. Juicy easy drinking wine with an accent on berries and violets. Partially de-stemmed, it tastes dry on the finish. Its counterpart Domaine Lucien Boillot & Fils Volnay 2015 from the upper part of Les Grands Poisots feels almost like Pommard. Fuller body, darker fruit and light touch of oak. Domaine Lucien Boillot roots come from Volnay, where its family winemaking history dates back to 1850s. After a conflict with his father in the 1950s, Lucien split from Domaine Henri Boillot and settled down in Gevrey-Chambertin. I'm glad Lucien keeps links with Volnay with a few vineyard holdings.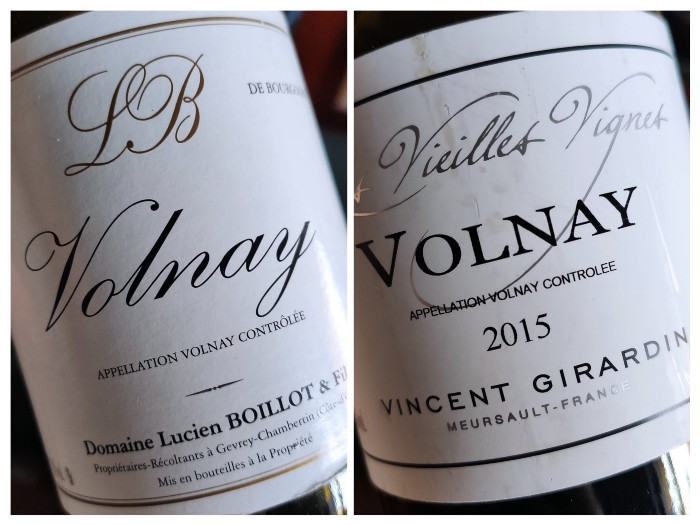 I took a few gigantic leaps in Google Maps till I reached the Beaune-Autun road which cuts through the best Volnay vineyards. The village lies up the slope, away from the main road. Back in the Middle Ages, the principal landowners here were the church and the Dukes of Burgundy. Over the years they built a lot of vineyard holdings. Local wine had a respectable reputation and often found its way to the royal table.

Volnay appellation is the record holder for the number of monopole Premier Crus. Monopoles account 1/3 of a total number of 29 Premier Crus in Volnay, and there are a few clos among them, which might be the heritage of Dukes of Burgundy times. Clos indicates a vineyard enclosed within a historic stone wall. If one builds today a fence around the vineyard, it won't make it a clos.



Domaine de la Pousse d'Or leads the game with three 1er Cru monopole clos they own in Volnay: Clos de la Bousse d'Or, Clos des 60 Ouvrées and Clos d'Audignac.

Volnay is also the place where the first domaine bottling in Burgundy has begun. In the 1920s, Marquis Jacques d'Angerville was brave to refuse the hegemony of negociants and started to bottle and market own wines. Two other contemporaries Armand Rousseau of Gevrey-Chambertin and Henri Gouges of Nuits-Saint-Georges joined Jacques in his rebellion. That was the birth of the new era that defined the fortunate destiny of Burgundy we all treasure.

Back in 1936 Burgundy was about to implement the national AOC legislation. No surprise Burgundians asked Jacques d'Angerville together with Henri Gouges to nominate Grand Cru appellations d'origine contrôlées. These two gentlemen undoubtedly earned much respect for suggesting no Grand Crus in the villages where they owned most vineyards. They explicitly articulated that the task they had performed was in favour of all the winemakers in Burgundy, rather than in their own.

I walked up the Rue de la Barre, passed a small church Eglise de Saint Cyr Et Sainte Julitte and turned right to 4 Rue de Mont. This is the address of 18th-century Domaine d'Angerville. Just behind the northern wall of the manor lies a beautiful garden, which is the most rated vineyard in Volnay. Clos de Ducs is a 2.15 ha monopole of the domaine and its wines often outperform some Grand Crus.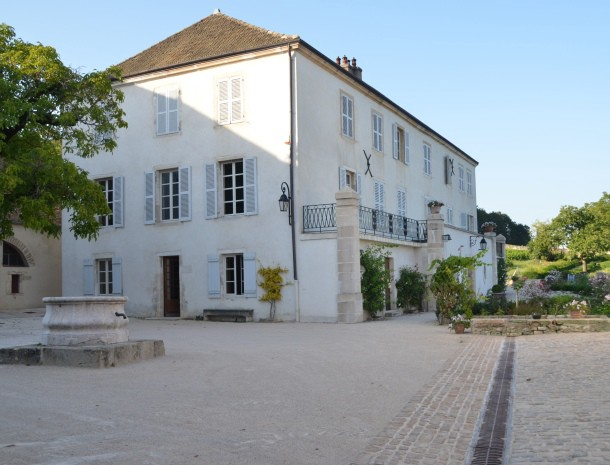 Today Jacques' grandson Guillaume is in charge of the domaine. Energetic grey-haired merchant banker, he moved from Paris and took over from his father in early 2000s. He started with the conversion to organic viticulture and from 2009 all vineyards are certified biodynamic. Guillaume has a preference towards clean and precise wines. I opened his Volnay Champans 2015. It showed an expressive purity of fruit. Wine is powerful with a muscular fit of youthful body. Domaine d'Angerville own impressive 3.98 ha parcel in Champans Premier Cru. Winemaking aims to achieve pure wines with fruit and nothing else — de-stem entirely, short period of maceration pre-fermentation and mix of steel and wood.


Over 70 growers operate from Volnay, but there are few names that stand out. Michel Lafarge equally contributes to the strong brand of Volnay together with Domaine d'Angerville. Lafarge is among the biodynamic pioneers of Burgundy and his first experiments date back to the early 1990s. Their wines see a little oak, and the focus is on the concentration of the fruit, its purity and precision. All Lafarge wines from Bourgogne to Clos des Chênes deserve the admiration. Sadly Michel Lafarge passed away early this year, leaving his son Frederic to continue writing the story of a family domaine.

It's time to leave the village and hit the road again. I pass the Chapelle and head towards Meursault. D973 offers spectacular views over the vignoble as I slide along the highway. On a moderately steep slope above the road there are two remarkable Premier Crus: Taille Pieds and Clos des Chênes. Below the road are Champans and the outstanding Caillerets.



These large vineyards beautifully exposed to the South-East have light in colour limestone soils with many stones and poor in nutrient. Altogether this accounts for the delicacy and the finesse of age worthy wines.


My rule of thumb is to choose the winemaker over the terroir.

Same rule applies to the best vineyards. A few names mentioned above and I can compliment with a couple of local growers:

Henri Boillot
de Montille
Nicolas Rossignol
Bitouzet-Prieur
Roblet-Monnot
Yvon Clerget
Jean-Marc Bouley

and not to forget about some high-quality negociants: Bouchard and Nicolas Potel.


When in doubt, pick the producer you know and trust.

I still have an opened bottle left and my story wouldn't be complete without mentioning the vineyard further South. I just need to turn left around the corner of Cailleret off the main road. This is the border between Volnay and Meursault. Now moving along Cailleret and further down to En Chevret we have Volnay vineyards on the left and Meursault vineyards on the right. Here is one peculiar anomaly. Vineyards of Santenots on Meursault side are both Meursault and Volnay at the same time. The simple rule to remember is that all reds are labeled as Volnay and whites as Meursault. I know it might sound confusing. One way to remember is that white wines of Volnay do not exist. Reds only.


Volnay Santenots Premier Cru comprises four lieux-dits, of which Santenots-du-Milieu known as the best. While we are here, it is the right time to reveal my last bottle — Domaine des Comtes Lafon Volnay-Santenots du Milieu 2014. Dominique Lafon is one of the iconic producers of Burgundy and based in Meursault. Praised for fantastic whites he makes a few bottlings of stunning Pinot Noirs with Santenots-du-Milieu being the finest. Lafon owns almost half of this east-facing lieu-dit with shallow red clay soil, hard limestone substrate: a sunny, early ripening site. He has been farming all his vineyards biodynamically since 1998. Fully de-stemmed fruit, cool whole-grape maceration and fermentation with indigenous yeast in stainless steel tanks. Elevage for about 20 months in 1/3 new oak barrels. Altogether that makes a quintessential Volnay. This refined Pinot Noir of graceful elegance strikes me with the ripeness of the fruit. A true masterpiece from a talented winemaker, the wine which tells a memorable story of its place with a loud voice of the vintage.


Luckily, Volnay still offers a great value for money compared to most of Cote de Nuits reds.