In mid-July, the first club meeting dedicated to the wines of Chablis took place in the midst of summer.

The tasting was educational and practical and fully corresponded to the spirit of the Wine Talks Club.

The participants faced a difficult task to understand the wines of this northernmost region of Burgundy. Here are some questions we were looking for during the tasting:

What are the distinguishing characteristics of Chablis, how to recognize blindly?
Is the hierarchy of appellation grounded?
Choosing a winemaker style: oak or steel?
Aging of Chablis wines?
Are all 1er Cru and Grand Cru equally useful?

Chablis is perhaps the most famous French white wine in the world. The fame of this wine spreads far beyond the small hamlet even more than 100 years ago. On the pages of Tolstoy's "Anna Karenina" we meet Chablis several times. Chablis' success has long been exploited in California, USA, where without a shadow of embarrassment they wrote Chablis on labels of cheap white wine and thus multiplied its sales. Only recently, with the tightening of laws on the protection of wines by geographical origin, the number of such unscrupulous fakes began to decline. Earlier, the Americans easily paid fines, because they were not comparable to the profit they extracted from their local Chablis.

The small village of Chablis is located on the banks of the Serein River in the Yonne department. Chablis belongs to Burgundy, but the region itself is isolated from Côte d'Or and is equidistant from other wine regions of Champagne and Sancerre (the eastern part of the Loire Valley).
Chablis is a ' monocepage wine ', i.e. wine produced from single grape variety. Chablis can only be called wines produced from the Chardonnay variety. This does not mean that there can not be planted and other varieties, only wines from them will never be called Chabils.


Why Chardonnay?
Chardonnay is the main white grape variety in the world. By the way, Chardonnay we know him today is from Maconnay in Burgundy. There's even a Chardonnay village.

Chardonnay belongs to the non-aromatic varieties of grapes and its main advantage is the ability to emphasize the slightest change in the terroir.


Terroir is a combination of soil and climatic factors and special characteristics of the terrain (landscape, exposition, soil composition, etc.), defining varietal characteristics of wine.

Winemakers appreciate Chardonnay, as the composer would appreciate such musical instrument which could express any composition.

The uniqueness of Chablis is in its terroir. This is a unique place on the planet Earth which does not have any analogues.

The territory of the modern Chablis is a former seabed, which is about 145 million years old. This is the Jurassic period. The soil here is the compacted remains and fossils of ancient marine animals: shells, clams-more commonly known as Kimmeridgian limestone. The most valuable are those areas where the soil is a soft layered cake: the layer of limestone alternates with layers of clay. The vine penetrates to a depth of 30 meters. The manifestation of Chardonnay on such terroir gives unique character to the wines of Chabils — aroma of sea water, sea breeze, high acidity and minerality.

What is the easiest way to explain to a person who has never tasted Chablis its taste and aroma characteristics? Simply offer it to imagine fresh oysters which shells open, then a sharp metal knife cut off a clam with its strong muscle which it keeps shutters, squeeze out a little fresh lemon so that the oyster shrinks and sprays the juice. The taste of oyster juice, the aroma of the sea and the touch of citrus — all together is the closest resemble the taste of Chablis.


One famous wine critic said that the union of oysters and Chablis (and still Mouscadet) was created in heaven! Indeed, oysters and seafood is the ideal food pairing to Chablis.

The landscape of Chablis wine region is diverse. In the names of vineyards often found ' Vau ', which translated from ancient French literally means ' valley '. These valleys are the parched rivers and streams flowing into the main river. This diversity has defined the hierarchical classification of the Chablis region and Burgundy as a whole.


Petit Chablis
The 1st step of the hierarchy of this appellation system was registered in 1944 after several years of lobbying by neighboring winemakers, who were haunted by the fame and success of Chablis. The wines of Petit Chablis are very variative in their quality and are inferior in the concentration of aromas and flavors of those of the main Chablis. Such wines need to be drunk young.


Chablis
The main appellation of Chablis wine region, which produces 64% of all Chablis wines. Almost 3600 hectares of vineyards. Classic Chablis. Wine for every day.

The zone of the main Chablis was considerably expanded after in 1978 INAO (National Institute of Origin and Quality, responsible for the control of French agricultural products with protected geographical status) lowered the importance of Soil factor in favor of microclimate and exposure (orientation to the sun).

Premier Cru
40 plots. 775 hectares. Wines from each site have their own character, which is due to the composition of soil and exposure. The most important areas are located on the right bank of the Serein River:

Fourchame-saturated and full-bodied. Montee de Tonnerre and Mont de Milieu are more stringent, with notes of nuts and steel.
Cote de Lechet and Vaillons demonstrate notes of peach and apple of Grenni-Smith. And also plots Beauroy, Vau de Vey, Montmains.
Chablis Grand Cru
The top of the hierarchy and the quintessence of Chablis. 7 plots, 105 hectares. Gran Cru is located on the right bank of the river Serein on one slope with Southwest exposition, the altitude is 100–250m above sea level.


Le Clos-the largest (27.6 hectares) plot, is considered the best. The most powerful and long-lived wines. High intensity of aromas and saturated rich taste, pronounced minerality.
Valmour (Matures a little longer) and Vaudesir — full-bodied with a clear structure, fruity and mineral, elegant.
Preuses and Grenouilles are more floral and delicate, more exotic fruits and nuts.
Bourgos and Blanchots are simpler among the best.
When is the best time to drink Chablis?
Petit Chablis — 0.5–2.5 years after harvest
Chablis — 1–4 years
1er Cru — 3–8 years
Grand Cru -5–12 years


Glasses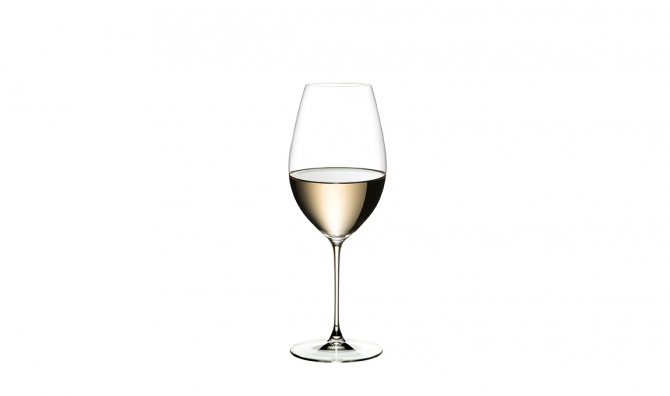 For young wines, as well as for all wines made with a small amount of oak or non-oak it is recommended to use standard glasses for white wine.

Seasoned wines and those that use a lot of oak, especially the Grand Cru, are best appreciated with the big glasses for the Burgundy chardonnay.


With or without oak?
In Burgundy, wine is historically vinified and aged in small barrels (228 l) of French oak ' barrique '. This method of wine production is widely used by winemakers all over the world and has been named ' A-La Bourgogne '. However, in Chablis there are two opposing views on the effect of oak on the final result. The opponents of oak insist that Chablis should be as natural as possible, its aromas are very thin and tender, its basic crisp character should not overshadow the auxiliary aromas which are formed as a result of contact with Oak. Others believe that oak increases the wine's potential for aging, gives extra weight on the palate and enriches it with special tannins.
There is still no unity of opinion and the question is of a purely philosophical nature. Today a variety of manufacturers give the consumer a wide choice (use steel and concrete tanks, oak barrels of large sizes, old and new oak, etc.) and everyone can decide on their own stylistic preferences.


Top Winemakers
Super League. These winemakers produce wines that can compete with the best samples of the White Burgundy in Cote de Beaune. It should be noted that the cost of these wines is significantly higher than the other of Chablis:
Domaine Vincent Dauvissat
Domaine Raveneau
Domaine Billaud-Simon
Domaine Benoit Droin
Domaine William Fevre
Domaine des Malandes
Domaine Louis Michel et Fils (only steel, no oak)
Domaine Christian Moreau Pere et Fils
Domaine Gilbert Picq et Fils (only steel, without oak)
Domaine des Iles
Domaine Moreau Naudet (low yield, biodynamics)
Domaine Joseph Drouhin (vinified in Beaune)
Domaine Jean-Marc Brocard (almost without oak, partially biodynamics)
Cave coopérative La Chablisienne (the largest producer of Chablis uses different styles)

The main rule that should always be applied when choosing a winemaker is to give preference to domains rather than to negociants.


Recent vintages
2015
High quality. The style is different from 2014. Concentrated wines for aging. The typical character of Chablis will be manifested over time.


2014
Great year! Saturated wines, powerful acidity. The real embodiment of Chablis.


2013
This year has eclipsed the neighboring years. This year's wine is worth drinking earlier.


2012
A very successful year. Shows the best characteristics of excellent vintage 2014, 2010, 2008. Saturated wines with well balanced acidity. Good potential for aging.


2011
Normal year. It's easier than others. Pleasant wines.


2010
Great year! Powerful saturated wines, high acidity.




The tasting was extensive — 14 samples. The best vintages, leading winemakers, the best plots, a variety of styles, young and seasoned wines.

2008 Simonnet-Febvre Blanc de Blanc Brut Zero
Opened the event with a vintage sparkling. The saturated yellow color hints the age of the wine. Powerful aromas of brioche, apple and citrus. Charlotte's apple Pie. The taste is ripe fruit. Mineral with high acidity. Blanc de Blanc, i.e. 100% Chardonnay, harvested in the Department of Yonne in the north of Burgundy. 36 months aging on lees. Brut zero — total absence of sugar in the liqueur de tirage. 2008 was a great year to create a vintage Cremant — high acidity and ripe grapes!

A great example of vintage BdB Cremant de Bourgogne (~ €20) as a good alternative to champagne.

Only 2013 vintage, only 1er Cru. Winemakers who moderately use oak vs stainless steel only.

2013 Domaine William Fevre Chablis Premier Cru Fourchame
Winner of the flight. Perfectly integrated oak. Still young wine with greenish-yellow tint. Floral notes of orchard fruits, but the intensity of the aroma is not strongly expressed. Mineral with outstanding freshness. Acidity is high. Elegant rounded wine, which will be at the peak in 2–3 years.

Beautiful terroir of Fourchame, located on the right bank of Serein and is considered one of the best 1er Cru. The wine is aged and vinified in steel vats and partly in old French oak barrels.
William Fevre is a leading large domain in Chablis, recently owned by the Henriot Champagne house. They use oak, but mostly old. Perfectly reflect terroir, only manual harvesting of grapes. Do not use batonnage, easy wine-tasting when necessary. Bottled their wines after 4–8 months of aging in oak and the same amount of time in steel. Classic Chablis.

2013 Domaine Moreau-Naudet Chablis Premier Cru Vaillons
The style of this wine is the use of oak. Pronounced aromas of ripe fruit, apricots, blooming garden, oak. Dense with texture to taste. Strong acidity.Grapes are harvested from two plots of Vaillons (90% Roncières, 10% Sechet). The wine is fermented and aged both in vats and in old oak barrels (70% in 2013). The age of vines is 50 years, own wild yeast, aging on lees of 18–24 months.

Moreau is a big fan of Vincent Dauvissat, who had a strong influence on the style of his wines. Atypical Chablis. A rare wine.

2013 Domaine Louis Michel Chablis Premier Cru Montmains
The style of this wine is on the opposite extreme — strictly stainless steel only. Pale greenish color. Very clean fresh natural flavors of apples, flowers and the sea. Pronounced chalky minerality with a mixture of herbs in taste. High acidity.

Indigenous yeasts. Vinification and aging in steel. Aging is 12 months.

Wine seems lighter, and more subtle manifestation of chardonnay thanks to terroir Montmains.

2011 Domaine Samuel Billaud Chablis Premier Cru Mont de Milieu
Refreshing wine with medium body. Aromas and flavors of citrus, white flowers, distinct salinity and notes of ginger. High acidity. Wine with individual character.15% of the new oak in the medium 450–600l barrels, the rest of the wine is fermented in small steel vats. Mont de Milieu is considered one of the best 1er Crus.

Samuel is a rising star in Chablis. Former chief winemaker in Domaine Billaud-Simon and his nephew, separated from the family due to serious professional disagreements and in 2009 founded his own brand.

2012 Domaine Gilbert Picq Chablis Premier Cru Vosgros
A powerful aroma of berries, citrus and peppermint. The taste corresponds to a nose with a small mineral straw. The wine has an oil texture, pronounced freshness.Winner of the flight. Wine without the use of oak, while rich in taste and shows all the inherent characteristics of Chablis. Definitely worth a closer look at the winemaker Gilbert Picq. The purity and naturalness of Chablis in its best manifestation.

2012 was a great vintage in Chablis which is already possible to drink, and the best wines of this year to cherish.

2012 Domaine Gilbert Picq Chablis Vielles Vignes
A very good sample of Chablis with no oak. Bright greenish-yellow color. The average intensity of the aromas of plum, flowers, sea breeze and a little spice. HIgh acidity and texture in taste.
The old vines (40yrs) and the relatively low yields (50HL) for the wine yield enough concentration, but inferior in depth to their fellow of 1er Cru. It is hard to believe that the wine never saw the oak even close. The taste is rounded and full.

2012 Domaine William Fevre Chablis Grand Cru Vaudesir
Favorite of the flight. Very fresh and fascinating. Big depth and volume in the aroma: citrus fruits and stone fruit, flowers honey and white pepper. High acidity, freshness and minerality of stones. It does not seem too complex, yet young and only approached its peak plateau which will last at least 5 to 7 years. You can safely stock the case of this successful vintage.

Grapes are hand harvested from two sections of the Vaudesir climat. 60% is aged in the old oak and the rest is in small steel vats.

2012 La Chablisienne Chateau Grenouilles
Very close to Fevre. The style with the predominance of oak, but very elegant wine. Expressive aromas of white blooming flowers, ripe stone fruit with a light touch of vanilla, inherent in the oak. Medium body with good acidity. The large volume of aroma leaves no doubt that it is the Grand cru. Also young, but will develop in the next years. This flagship wine of cooperative La Chablisienne has enormous potential. The cooperative owns 80% of Grenouilles vineyards.
20 months on lees, aging in vats and barrels.

2012 Domaine Louis Michel Chablis Grand Cru Vaudesir
Very different from Fevre Vaudesir coming from the same vintage. A complete opposite in style. Steel and clean, sharp and nervous with high acidity, which makes abundantly secreted saliva. It seems more restrained compared to other wines of this round. Lack of weight and concentration, but a lot of volume in the aroma. Very affordable and ready for this vintage.

2008 La Chablisienne Chablis Premier Cru Vaulorent
Winner of the flight. Blind tasting. Yellow. Bright saturated aromas with smoky notes. Mineral and nut. Rich and saturated wine at its peak.Vaulorent is a 1er Cru climat, which adjoins the Grand Cru and is located on the same hill with the best soils of Kimmeridgian limestone.

Perhaps this wine surpassed the other Gran Cru because it is at its peak while the Grand Cru has not yet uncovered its potential. And we should follow this tip, especially at the cost of only €30!!

2008 Domaine William Fevre Chablis Grand Cru Les Clos
Big annoyance — wine with premature oxidation, while the bottle itself was in great shape. The level, label and cork were in perfect condition. But it is known that Fevre had problems with the wines of this year with Les Clos. Almost 50% of the wines suffered the same fate.

It is a pity, considering that this wine predicted the laurels of the winner of the whole evening.

2008 La Chablisienne Chablis Grand Cru Les Preuses (Smoky)
Very close to the winner second place. The same vintage and the same winemaker as the winner. Even the plots are located in the immediate vicinity. Aromas of white fruits, sea iodine, lemon, brioche and very classic for Chablis tastes with good embroidery.Another great wine from the cooperative La Chablisienne, which produces 30% of all Chablis wines.

2008 is a great vintage that is completely ready for the Grand Cru wines.

5th round: Grand Finale!
2000 La Chablisienne Chateau Grenouilles
Absolute Winner! Outstanding fine wine! Rich amber color speaks for its age of 17 years old wine. Perfumed expressive aromas of exotic yellow fruits, beautiful tertiary aromas of noble mushrooms. A charming oxidative notes. Wine on the fragile edge of its peak. We were very fortunate to enjoy this radiant beauty. Rich, complex full-bodied wine with pronounced acidity. The wine lasts for a long time in a glass generously amazed by its aromas. A lovely final chord of an amazing evening!